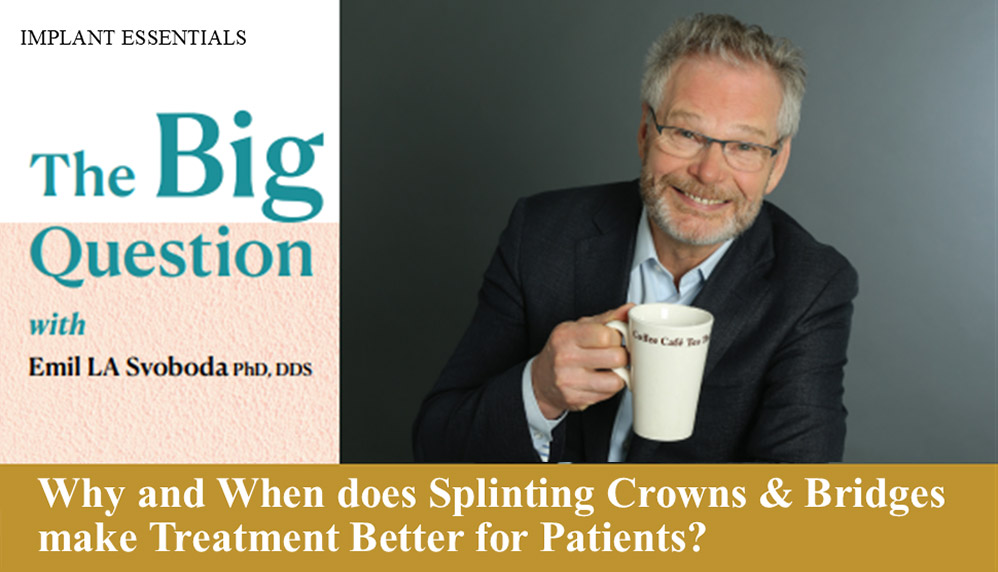 Why and When does Splinting Crowns and Bridges make Treatment Better for Patients

Abstract: In Spectrum Implants October 2022 I introduced a few guidelines that I use to decide to splint implants within a fixed restoration or not. Let's test them against the root causes of mechanical problems that put our patients at risk of biological problems such as peri-implant disease and implant failure.

From the literature, I understand that increasing size increases Prosthesis Dimensional Error (PDE) and can make it more difficult to see and manage the Tissue Effects (TE): Resistance to Displacement and the Gingival Effects. Hard and soft tissues can prevent the dentist from seating a prosthesis properly by getting wedged between connections or otherwise displace connecting parts from their intended trajectory. Let's introduce another root cause of mechanical misfits called Incongruent Paths of Insertion (ICPOI). 2 This considers intraoral elements such as teeth, implants, and implant parts that all have unique paths of insertion that are unlikely to be microscopically congruent. Why microscopically? We know that implant manufacturers can make connecting parts at an accuracy of ± 5µ 3 and that the oral microbes that cause peri-implant disease are around 1 micron in diameter. To have parts fit together optimally, they need to have congruent paths of insertion, if there is a desire to make the prosthesis easily retrievable.