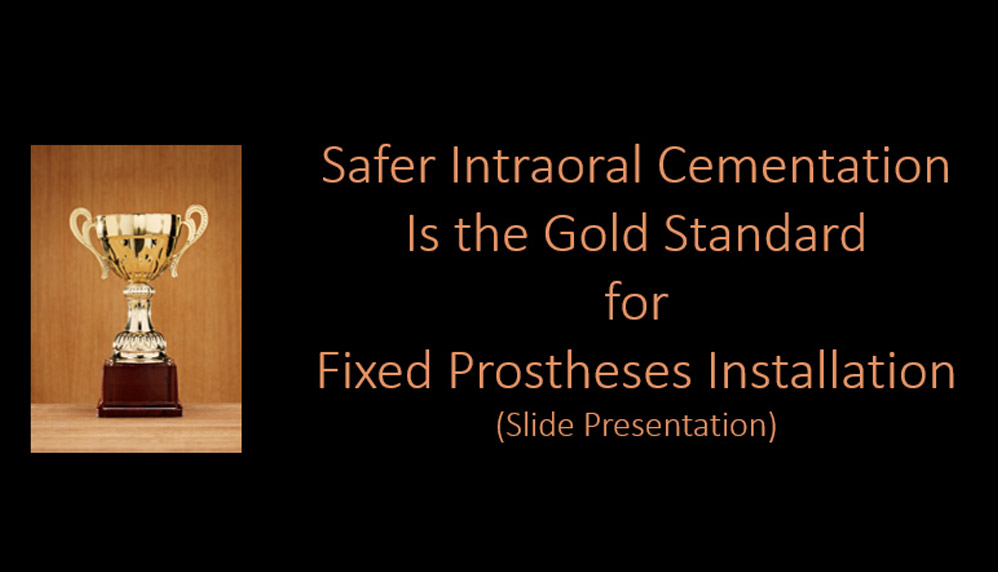 Safer Intraoral Cementation is the Gold Standard for Fixed Prostheses Installation

Abstract: This slide presentation is a concise overview of how current prostheses installation systems expose patients to multiple risk factors for peri-implant disease and treatment failure. Dr. Svoboda identifies the root causes of these complications and reveals how innovative abutment-prosthesis designs and installation protocols can mitigate their negative effects. The information is supported by multiple reports from the literature and from the research by the author. Dr. Svoboda encourages clinicians to dig a little deeper and learn some new ways to make life better for themselves and their patients. Implants can fail for many reasons that are difficult to control. Safer prosthesis installation involves a process that is clearly in the dentist's control.

The dental industry has evolved tremendously over the last 40 years and can make CAD/CAM directed site-specific custom parts from biocompatible materials with microscopic levels of precision. The proposed Safer Installation System enables the dentist to exploit these benefits by consistently optimizing the fit of implant components, preventing poor prosthesis margins, and preventing submarginal cement. Dr. Svoboda encourages his colleagues to head for a brighter future. It's no fun trying to manage disappointed patients with difficult to solve problems related to their treatment. Learn why safer intra-oral cementation is the Gold Standard for fixed prosthesis installation.

Search Words: dental implants, implant prosthetics, implant crowns and bridges, prosthesis installation, cement retained, screw retained, implant-abutment misfits, peri-implantitis, mucositis, subgingival cement, RM System, Reverse Margin System.

Emil LA Svoboda Ph.D., DDS is a general dentist practicing implant dentistry at ParkPlace Dental Centre in Brampton, Ontario. He is a Fellow of the AGD, an Honored Fellow of the AAID and a Diplomate of the ABOI/ID. He has lectured and published widely about making implant treatment better by design and protocol. He invented the Reverse Margin™ System to enable dentists to consistently optimize the fit of implant parts and to prevent the advent of residual subgingival cement.